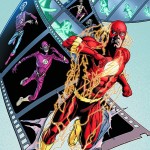 Newsarama's Vaneta Rogers interviews Marc Guggenheim about the Green Lantern and Flash movies. Readers of this blog will no doubt appreciate his first quote:
"We've turned in the treatment for Flash."
Next up: the script. "It's very much one step at a time for The Flash."
Since Guggenheim, Greg Berlanti and Michael Green are also working on the story for Green Lantern 2, Rogers asked him about possible Flash sequels. They're not planning one at this stage, but they are open to it.
Guggenheim will be covering two other speedsters while The Flash is in development. He takes over Justice Society of America with issue #44 (scheduled for October), where he'll write the original Flash, Jay Garrick. He's also a consulting producer on Berlanti's TV show No Ordinary Family, which features a speedster played by Julie Benz (Dexter, Buffy the Vampire Slayer) and premieres on September 28.
Share