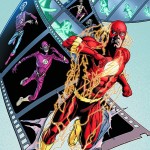 Deadline Hollywood's Nikki Finke reports that the first drafts of the scripts for The Flash and Green Lantern 2 will be turned in "between Thanksgiving and Christmas."
Michael Green and Marc Guggenheim are writing the script for The Flash based on the story they wrote with Greg Berlanti. I've lost track of where Geoff Johns is in all this. At one point he'd written a story treatment that Dan Mazeau was turning into a screenplay, but that version of the movie seems to have been scrapped in favor of the GL trio.
Greg Berlanti has been rumored as a likely director, but Finke's source thinks it's unlikely, saying that Berlanti "wants to do something in between [Life As We Know It and The Flash] size-wise first before attempting something that large"
Update: Moviehole reports a rumor that Bradley Cooper (The Hangover) is a leading candidate for the role.
(Hat tip to @SpeedsterSite for spotting the news!)
Share