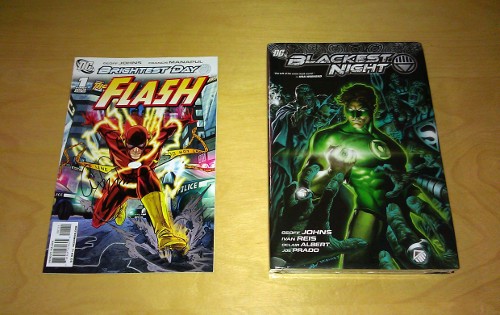 Way back in April, DC ran a Flash trivia contest on Twitter for a signed copy of The Flash #1. A new question each day for a week, with winners chosen from the first few correct responses. I won one of the days with the answer to a question about "Flash of Two Worlds," and immediately sent in my mailing address.
And waited.
And waited.
After about a month, one of the other winners contacted me through Comic Bloc trying to get us all together to write to DC and ask what was going on. DC wrote back, assuring us that the signed books would be out within a few weeks.
Eventually, September rolled around, along with a second or third round of, "Hey, what happened?" This time, they assured us all that the books would be sent out by the end of the month.
Guess what?
Last Friday (October 8), I came home and found an envelope from DC Comics! In it was not only a copy of The Flash #1, but a copy of the Blackest Night hardcover to make up for the long wait time!
When I checked in on Comic Bloc, it turned out that they'd sent Blackest Night to some of us, and Flash Rebirth to others.
I remember last year telling someone that I wasn't planning to read Blackest Night because I had no interest in it, but I'd read it if someone else bought it for me. It's weird that not only did someone end up buying it for me, but it was DC themselves! I guess they really want me to read this book! 😀
Another funny thing: Back in July, I got Francis Manapul to sign my copy of The Flash #1 at Comic-Con International. So now I have two signed copies: one signed by the writer, and one signed by the artist!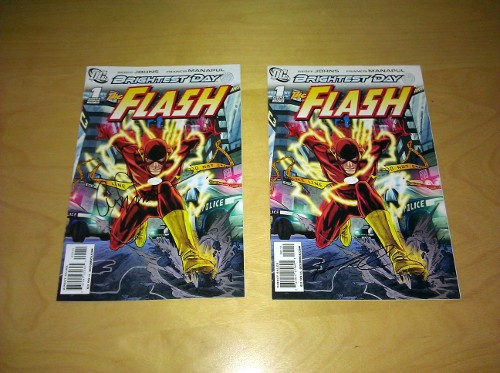 Share