There's another post on The Source today that might be of interest to speedster fans. It's got some pretty significant spoilers for this week's Green Lantern, so I'll continue after the cut.
.
.
.
.
SPOILERS for Green Lantern #59
.
.
.
It looks like Parallax wants to speed things up!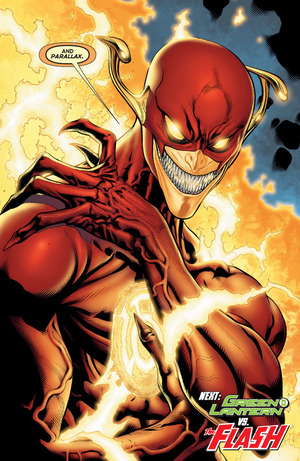 Black Flash, Blue Lantern, Parallax…Barry Allen has gone through quite a few transformations in his short* time back. It fits in with the classics from the Silver Age: Puppet Flash, Big Head Flash, Fat Flash, Old Flash… Hmm… I should write up a post about the Many Transformations of the Flash. Though I'm likely to be too busy to research that sometime soon.
Actually, if someone would like to write that up as a guest post, I'd definitely appreciate it!
*Well, really it's been 2 1/2 years, but since he's only finished one story arc in his main series, it feels like a short time.
Share