There are a couple of changes coming up that are going to impact my blogging activity.
The first is that I'm starting a new job on Monday. I'll be focused on getting up to speed (pun not intended), and the longer commute will leave me with less free time. And depending on their policy on personal internet use, I probably won't be checking comics news on my breaks.
As for the second change, I've mentioned my wife from time to time, such as our Comic-Con costumes, her homemade Flash cupcakes, etc. I've been keeping quiet about something…well, here's a recent photo: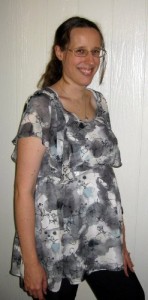 That's right, we're expecting our first child in late November/early December! We're at the point where we need to really focus on getting the place ready, and of course once the baby arrives, I won't have much time for blogging for a while.
The Near Future of Speed Force
Speed Force won't be going on hiatus, though. Devin will continue to post, and I'll pop on when I have time. I've got a few "rerun" posts from K-Squared Ramblings that I didn't use the last time I took some time off, so I can set those up.
But here's the big thing:
I'm inviting you as guest bloggers!
Taking a cue from Collected Editions, I'd like to highlight other voices from Flash fandom. Here's the kind of post I'm looking for:
Something about the Flash, another speedster, or a related character. (Max Mercury, Impulse and Jesse Quick are fair game. The Rogues are fair game. Quicksilver, Sonic the Hedgehog, Stephanie Powell from No Ordinary Family, Daphne or Edgar from Heroes are all fair game. Even the lead from Stan Lee's Lightspeed if you can stand watching it.)
Something that's not time-critical. Your post might go up anytime between mid-November and January. Speculation on the end of "The Dastardly Death of the Rogues" is not a good idea! But there's 70 years' worth of Flash material alone.
A mix of topics would be great. Review a trade paperback, submit photos of your fan costume, write up how to make your fan costume, talk about your favorite writer or artist, show off a convention sketch or commission, tell the story behind your favorite item of Flash memorabilia, explain what you like about your favorite speedster or Rogue, write up your favorite Flash story, etc.
Don't be nasty. You can be negative if you want, but please don't start griping about "Boring Allen" or crowing about how Wally is a pale imitation of the "real Flash." Similarly, no personal insults toward writers, artists or fans. (Dan Didio, however, is fair game. Just kidding.)
If you're interested in writing a guest post for Speed Force, please email me at speedforce – at – pobox – dot – com or let me know through the contact form. Include the topic(s) you'd like to write about (but feel free to change your mind later if you think of something better).
Please try to send in your post by November 15. I'd like to have as many as possible banked and ready to go.
Thanks to everyone who has followed along with this site for the last two years!
Share