Newsarama has a preview of DC's February solicitations, including…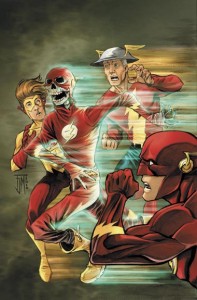 THE FLASH #11
Written by GEOFF JOHNS
Art and cover by FRANCIS MANAPUL
1:10 Variant cover by SCOTT KOLINS
The road to FLASHPOINT is paved with good intentions, but the Flash is about to learn the truth behind those good intentions — and the secret of Hot Pursuit!
On sale FEBRUARY 23 • 32 pg, FC, $2.99 US
Notes: This probably isn't actually coming out on February 23, since DC just rescheduled Flash #10 for that date. But I've got to say, @SpeedsterSite is right: that's a damn good cover by Francis Manapul!
I guess I'd better update my gallery of Dead Flash Covers.
Share