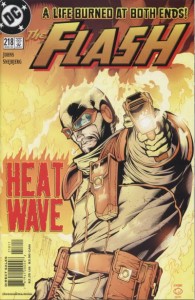 This is probably a crazy idea, but it's something I thought about while writing up my thoughts on Flash #6:
DC should plan for the book to get delayed.
I really like Francis Manapul's art, and Geoff Johns, when he's at the top of his game, can be a great writer. I'd rather not lose this team on the book right now. But it's been a while since The Flash managed to release twelve issues a year. To catch up, they've planned a couple of Rogue Profiles before the next story arc: done-in-one issues that tie into the ongoing mythology but focus on a different point of view, namely one of the Flash's villains. These were great during Geoff Johns' run on the Wally West Flash series, and I'm glad we're seeing more.
Meanwhile, the pacing of the series seems a little bit more decompressed than it needs to be. As much as I enjoyed it, "The Dastardly Death of the Rogues" felt like it could have been told as effectively in four or five parts instead of six. Flash: Rebirth definitely could have – it seemed like half of the final issue was epilogue. But six issues is the standard length for a collection, so that seems to be the story length that they're shooting for.
My suggestion: Make the story arcs five issues long instead of six, and schedule a Rogue Profile in between. Put another artist on the profile, one suited to the villain getting the spotlight. If Geoff Johns is busy, let another writer work from his outline, or hand it outright to someone who understands the current take on the Rogues.
That way, the star creative team is only committed to ten issues a year instead of twelve, and we get some great stand-alone stories that DC can either include with the main story collections or save up for a couple of years and put in a collection as "The Flash: Rogues Gallery."
What do you think?
Share