DC's April 2011 solicitations are up at CBR, Newsarama and elsewhere, including the next issue of Flash. Next month we should be seeing the first solicitations for Flashpoint, which launches in May. (Hmm, who wants to bet that there will be a Flashpoint #0 for Free Comic Book Day?)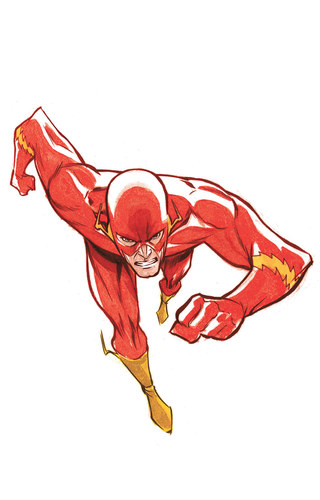 The Flash #12
Written by GEOFF JOHNS
Art and cover by FRANCIS MANAPUL
1:10 Variant cover by GEORGE PEREZ
"The Road to Flashpoint" concludes as everything Barry Allen knows and cares about is lost. What is the Flashpoint? Find out in the upcoming FLASHPOINT #1!
On sale APRIL 27 • 32 pg, FC, $2.99 US, RATED T
Wow, that's…vague.
But, hey, George Perez variant cover! I'm looking forward to seeing that one!
Also of likely interest to Flash fans:
Justice League International TPB Vol. 6, collecting several issues of Justice League America and Justice League Europe (featuring Wally West), including the first crossover between the two teams, "The Teasdale Imperative."
Young Justice #3 with Kid Flash front and center on the cover.
The conclusion of Brightest Day, featuring Captain Boomerang (and probably Professor Zoom)
The usual team books: Justice Society of America, Teen Titans, Tiny Titans
Share