Well, that was fast. Just yesterday I pondered the likelihood of DC releasing a Flashpoint prelude for Free Comic Book Day, and today they announced a Green Lantern/Flashpoint special for the event.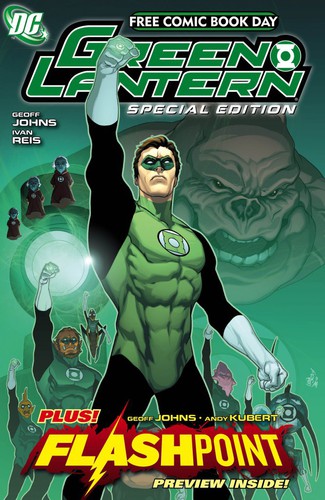 This is the perfect jumping-on point for new readers who can't wait to see the "Green Lantern" major motion picture from Warner Bros.! Discover how and why Hal received the power ring that changed his life forever with this reprinting of GREEN LANTERN #30, a pivotal chapter of the Green Lantern: Secret Origin graphic novel. No comic fan can afford to miss this exclusive first sneak peek of FLASHPOINT, DC's blockbuster event of 2011, by the all-star team of Geoff Johns and Andy Kubert.
So instead of a lead-in, we're getting a preview, and it's playing backup to a Green Lantern movie tie-in.
Free Comic Book Day is held the first Saturday of May.
Share