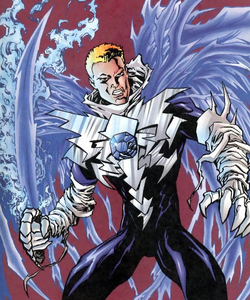 "Chain Lightning" (Flash #143–150, including the lead-in) is a polarizing Flash storyline. Some fans love the look into the future of the Flash legacy. Others can't stand that it hinges on Barry having an evil twin. (I've never been entirely sure how much of the objection is to the evil twin trope in general, or to the fact that Cobalt Blue is Barry's evil twin.) Even Mark Waid admits that it didn't work, though he maintains in The Flash Companion that the idea was sound, he just screwed up on the execution.
But then I had a thought: What if Cobalt Blue had appeared during the Silver Age instead of the late 1990s?
The evil twin trope hadn't been discredited yet, so there would have been few objections on that basis. And with Barry as the new, current Flash rather than a fond memory, there would be no sense that DC was tarnishing a cherished hero's legacy.
Consider: The Flash's opposite number, who could have had his life but for a twist of fate, who fights against the law instead of for it, who uses magic instead of science. There's some solid appeal there. And being a conceptual opposite makes him fill a different role than the Reverse-Flash, who is basically the Flash, but evil. (Sort of like Savitar vs. Zoom)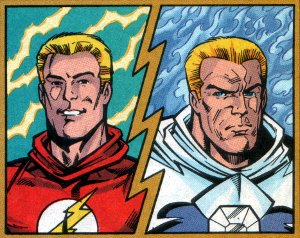 Obviously the big 6-issue epics didn't exist back then, but I can imagine Chain Lightning as a recurring type of story, where once a year or so, the Flash has to go into the future to help another future Flash fight that generation's Cobalt Blue.
So…
Is Cobalt Blue that much worse a name than Captain Cold, Professor Zoom, Pied Piper or Abra Kadabra? (Admittedly, Waid says in the same interview that he wanted to use the name Wildfire, but DC nixed it.)
Is a literal evil twin that much harder to swallow than a clone (Inertia), a mimic who has been known to alter his appearance to match the original (Professor Zoom), the product of an imperfect duplicator ray (Bizarro), or an alternate universe version (Ultraman)?
Is the concept that much more hokey than a gang boss who dresses as a clown (Joker), a talking telepathic gorilla (Grodd), a villain who spins (The Top), runs around in a parka and snow goggles in the heat of summer (Captain Cold), or throws trick boomerangs (Captain Boomerang, of course)? Look at the reactions to Final Crisis: Rogues' Revenge from people who don't read The Flash. They were surprised to find that the Rogues were compelling characters. Readers outside the Flash fanbase look at the Rogues' names, costumes, and powers and figure that they're nothing but lame jokes, but when used properly, they transcend the cheese factor.
What do you think? Am I totally off-base here, or could Cobalt Blue have worked as a classic Silver-Age villain?
(Originally posted October 2008. Expanded from a remark I posted on Twitter earlier, itself condensed from a post on Comic Bloc in response to Heatwave the Rogue's assertion that Cobalt Blue is the Mopee of the modern era.)
Share