If you happened to drop by the site on Friday, you may have noticed it looked…a bit different.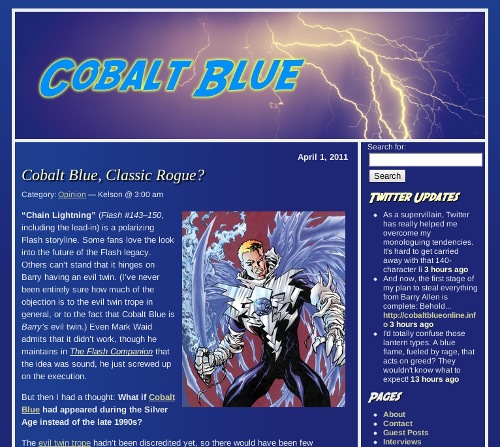 Yes, we re-branded Speed Force as Cobalt Blue Online, complete with multiple articles about the "Chain Lightning" villain. What with WonderCon starting and it being Flashpoint Friday, we thought about posting some joke news about the real villain behind Flashpoint, but the closest we got was Devin's Cobalt Blue T-shirt design. Everything else we posted was true, speculation, or opinion…just a bit out of the usual topic range.
Cobalt Blue Online wasn't the only blog to do this. A whole slew of comics character– and team-focused blogs reinvented themselves for a day to focus on Red Star, Vibe, the Osprey, Dreadstar, Marshall LAW, Valkyrie, B'Wana Beast…and the Top.
Update: The Idol-Head of Diabolu has a great recap of the whole group event.
Update 2: The Irredeemable Shag has another recap with screenshots of all the participating blogs over at FIrestorm Fan.
You can read all our April 1 articles, including the Flashpoint and WonderCon news, or just the Cobalt Blue (and related) posts.
Thanks to Devin, Greg and Lia for all their help, and the readers who dropped by for playing along – it was a blast!