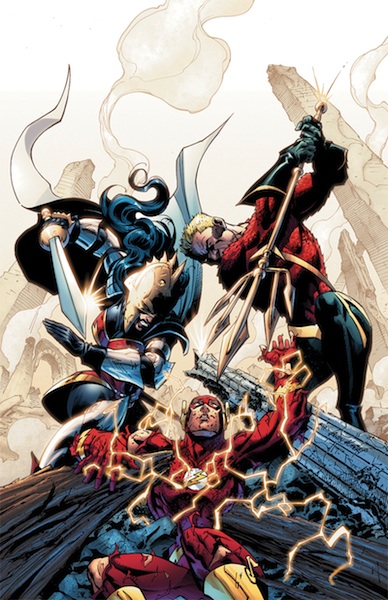 In yesterday's Newsarama interview, Geoff Johns revealed that he and Andy Kubert are almost finished with the final issue of Flashpoint, and that DC would be shipping both Flashpoint #4 and Flashpoint #5 in August. Today, DC released the solicitation for both issues on The Source, along with the cover for #4.
FLASHPOINT #4-5
Written by GEOFF JOHNS
Art by ANDY KUBERT and SANDRA HOPE
Covers by ANDY KUBERT and SANDRA HOPE
1:25 Black and white variant covers A by ANDY KUBERT
Issue #4 Variant cover B by IVAN REIS and GEORGE PEREZ
Issue #5 Variant cover B by RAGS MORALES
FLASH FACT: The war between the Amazons and the Atlantians has arrived. The battles between Diana of Themsycira and Emperor Aquaman will tear this world apart – unless The Flash can fix it!
IMPORTANT NOTE: Because of its impact on the DC Universe, FLASHPOINT #5 is the only title that DC Comics is currently soliciting to arrive in stores on August 31.
Issue #4 on sale AUGUST 3
Issue #5 on sale AUGUST 31
4 and 5 of 5, 40 pg, FC, $3.99 US RATED T
DC is really pushing the "big changes ahead" theme, aren't they?
Keep an eye on The Source today. DC's releasing the solicits for all of August's Flashpoint issues, one by one.
Share