When Geoff Johns relaunched The Flash with Flash: Rebirth, readers wondered why DC had let most of his first run on the series go out of print. Then they announced a new, high-quality hardcover reprint series. The first volume comes out this week.
The Flash Omnibus by Geoff Johns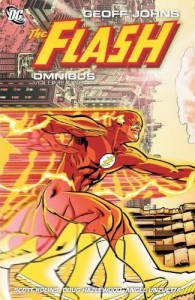 Written by GEOFF JOHNS ; Art by ANGEL UNZUETA, DOUG HAZLEWOOD, SCOTT KOLINS, ETHAN VAN SCIVER and others; Cover by SCOTT KOLINS
The first in a series of hardcover volumes that collect all of the best-selling issues of THE FLASH written by comics superstar Geoff Johns, beginning with issues #164-176, plus THE FLASH: OUR WORLDS AT WAR #1, THE FLASH: IRON HEIGHTS and THE FLASH SECRET FILES #3!
In this volume, Wally West finds himself without his super speed in a darker, mirror version of Keystone City. Can a powerless Flash defeat Captain Cold and Mirror Master to save the city he loves? Plus, The Flash is shocked to learn that a strange cult is killing all the people he has ever rescued. Featuring art by fan-favorites Ethan Van Sciver, Scott Kolins and more!
DC Universe – 448pg. – Color – Hardcover – $75.00 US
Thoughts: The price is steep, but from what I've heard, it's in line with the paper and binding quality on these books. It's basically a double-length Archive book, and those typically sell for $50.
The contents were previously collected in the trade paperbacks Wonderland and Blood Will Run. To the best of my knowledge, this is the first time that the Flash: Our Worlds At War special has been collected.
Buy it from your local comic shop this week, or order it from Amazon next week!
Share