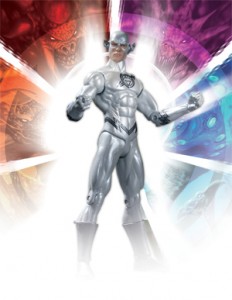 Hello, Speed Readers. Just a couple updates on the Graphitti Designs Convention Exclusive Brightest Day White Lantern Flash Action Figure courtesy of Action Figure Insider. Some good news and some bad news.
The good news is that the figure is now available on Graphitti Designs official webpage, Graphittidesigns.com. The figure is 20 dollars and is only available in limited quantities. Great news for those who could not get out to C2E2 or Wondercon to get them the first time.
Unfortunately this also means that they will not be available at the upcoming San Diego Comic Con or New York Comic Con as DC Direct exclusives. So if you were patiently waiting for these chances to grab the figure you may have to seize the day now and get one while the getting is good. The price for the figure on eBay floats between 40 and 140 dollars so I would suggest getting it from Graphitti now.
Anyone planning on picking one up now that they are available online?
****UPDATE****
It looks like Graphitti Designs have officially sold out of their stock of White Lantern Flash Action Figures as the link I posted earlier this morning now points to a unavailable product page. Sorry for those that missed out. Anyone else manage to snag one before they sold out?
Share