Our series on reactions to DC's September relaunch continues. Last time we looked at the Justice League titles. This time it's the Green Lantern collection of comics, which appears to be less of a reboot and more of a restructuring.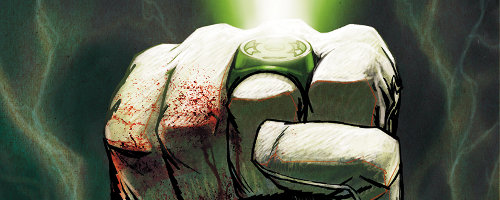 Green Lantern · Green Lantern Corps · Green Lantern: The New Guardians · Red Lanterns
Green Lantern
Lia: I started reading GL for the first time just before Blackest Night, and kept up with it for a while afterward. Then my shop ran out of a particular issue and I just never bought the series afterward for no particular reason (I'll probably pick up the missing issues at a con sometime). But I might pick it up again at #1, depending on the direction Johns takes. I liked the other colour corps better than Hal, and they may not be in this series much.
Devin: Don't care for Hal that much so I won't be picking this up.
Green Lantern Corps
Greg: I'm glad to see John Stewart make the cut. He's a strong enough character to warrant his own book, but Tomasi writes Guy Gardner so well that I would have picked up Green Lantern Corps regardless of Stewart. Pasarin is my favorite GL artist right now as well, so nice to see some "continuity" there.
Lia: I like some GLs and not others, so this is a mixed bag for me. It depends on who appears and how Tomasi handles them (and how much they are or are not rebooted).
Devin: I like John and Guy o.k. but not enough to buy a series because of them.
Green Lantern: The New Guardians
Devin: Kyle Rayner is my Green Lantern. I have his entire series and a couple of his action figures as well. After Hal came back and Kyle was forced into that Ion identity I found it difficult to continue caring and have only caught glimpses of him here and there. This is the only series of these four that I have a possibility of picking up and in the end I probably won't. I'm burnt out on Geoff's Power Rangers.
Lia: I want to hear more about this title and who's in it before forming an opinion.
Kelson: I find it interesting that DC is not only picking up right where it left off, but all four Earth Green Lanterns have found a place in the new line-up. Even Kyle Rayner, who I half-expected to be retconned out of existence when initial reports made this sound like a more far-reaching reboot.
Red Lanterns
Lia: I love villains, and am fond of Atrocitus and Dex-Starr and the other Red Lanterns. I'll be getting this book, although am slightly concerned that the Red Lantern concept can't stretch far enough for an ongoing series.
Devin: I am definitely burnt out on the multi-colored Lanterns.
Part 1: Justice League
Next up: Gotham City.
Share