Flashpoint: Grodd of War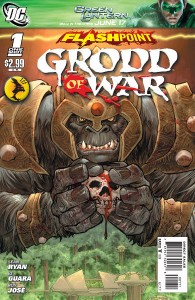 Written by SEAN RYAN; Art by IG GUARA; Cover by FRANCIS MANAPUL
FLASH FACT! Africa belongs to him!
UPDATE: Preview at The Source.
Sean Ryan described the book as "What does Grodd do without his archenemy? He gets everything he's ever wanted, but there's no more challenges in his life. He's got everything he wants, but he's miserable."

Flashpoint: Legion of Doom #1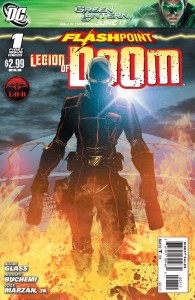 Written by ADAM GLASS; Art by RODNEY BUCHEMI and JOSE MARZAN, JR.; Cover by MIGUEL SEPULVEDA
FLASH FACT! They have to kill the president!
UPDATE: Preview and article at USA Today.
Note: In a recent interview, Adam Glass describes this miniseries as "Heat Wave's story, and it's a classic revenge story. Cyborg, who is the Superman of this world, is his target because he stopped Heat Wave from doing something he really wanted." But first he has to get out of a supermax prison…and there are other villains trying to escape as well.

Tiny Titans #41
Written by ART BALTAZAR and FRANCO; Art and cover by ART BALTAZAR
Outta the way – It's the "Flash" issue!
It's the fastest comic ever and the race is on! This special issue introduces Jessie Quick and features Inertia and Mas y Menos. Plus: Kid Flash sharpens his pencil to a FLASHPOINT! Plus plus: Blue Beetle makes a special appearance!
UPDATE: Here's a preview.


Also: The Flashpoint #1 second printing hits this week.
Share