DC Comics' November solicitations are up. In addition to The Flash #3 and the usual Justice League spot, the Flash guest-stars in Captain Atom #3, and Mark Waid's "The Life Story of the Flash" is reprinted.
The Flash #3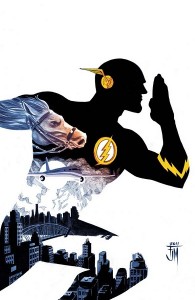 Written by FRANCIS MANAPUL and BRIAN BUCCELLATO
Art and cover by FRANCIS MANAPUL
1:25 Variant cover by JIM LEE
1:200 B&W Variant cover by FRANCIS MANAPUL
On sale NOVEMBER 23 • 32 pg, FC, $2.99 US • RATED T
If the Fastest Man Alive is going to capture Mob Rule, he must first tap into his new amped-up super brain to save the citizens of Central City from the EMP that has blacked out the city. Witness a spectacular sequence of out-of-control cars, trains and even airplanes that must be stopped from destroying the city!

Captain Atom #3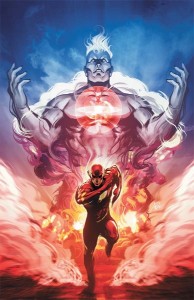 Written by J.T. KRUL
Art by FREDDIE WILLIAMS II
Cover by STANLEY "ARTGERM" LAU
On sale NOVEMBER 16 • 32 pg, FC, $2.99 US • RATED T
Captain Atom is taking his powers to new heights – saving people all across the world in the blink of an eye. But he's not the only one who can move at super speed. Enter: The Flash! And when their paths cross, don't expect them to share the secret hero's handshake – because Captain Atom may be a bigger threat than any villain.
DC Comics Presents: The Life Story of the Flash #1
Written by MARK WAID and BRIAN AUGUSTYN
Art by GIL KANE, JOE STATON and TOM PALMER
Cover by GLEN ORBIK
On sale NOVEMBER 16 • 96 pg, FC, $7.99 US
This striking tale combines comic-book illustration and prose to follow Barry Allen from his humble childhood to his noble death, detailing his transformation from police scientist to one of the DC Universe's most dynamic heroes.
Note: It's worth considering that the structure of this book hinges on the Barry/Iris relationship and marriage. Just a thought.
Share