Welcome to the latest installment in our annotations of the collected edition of The Trial of the Flash!  We've been breaking down related stories leading up to last month's release of Showcase Presents: The Trial of the Flash.  In addition, we've interviewed author Cary Bates about the buildup and the Trial itself, plus shown you what won't be included in the collection.  For last week, and previous issues, click here.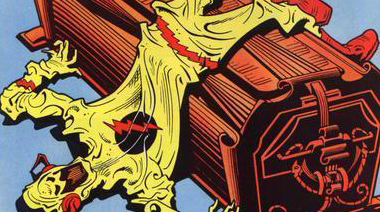 Links to artwork and research are included throughout this post.  This time around, since the reprint is widely available, the format will be a little different than the notes for "The Death of Iris Allen".  For legal analysis of the story, something I will not attempt, go here.
COVER:  Carmine Infantino and Rodin Rodriguez turn in a caption-less follow-up to their classic cover to #324.  Rodriguez was very active for DC from 1980 to 1985, but only worked on nine covers: eight Flash and one Jonah Hex.
PG 1:  This is the first of two issues in this collection that are inked by Dennis Jensen.  He inked 50 issues for DC between 1981 and 1986, in addition to three covers.  As mentioned last week, he is credited with inking Flash #324, but the style seen there is completely different than the issues that both precede and follow.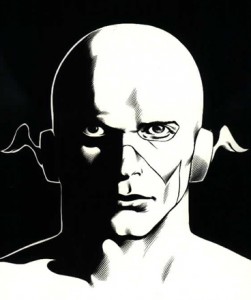 Jensen's work with Infantino is the strongest in this collection.  There is a level of depth and detail that Jensen embellished upon Infantino's layouts that is unequaled by Rodriguez, Frank McLaughlin, Gary Martin and the other inkers seen in this book.  They're all fantastic talents on their own, but Jensen is possibly, page-for-page, the best inker Infantino ever had, including Murphy Anderson.  It was noted, in response to fans' lettercol requests for more Jensen, that it took him a long time to finish a single issue.
PG 2:  Picture News Reporter Sue Staton appears in this issue only, as confirmed by this Flash index.

PG 4:  Want to learn more about anxiety attacks?  The use of the name "John Doe" for unidentifiable males could possibly go back to the fourteenth century.
PG 6:  I couldn't find one of a police officer, but I did find this gangster cardboard silhouette.
PG 8:  High level of detail on the Boomerang-passengers, including the first all-nude appearance of Eobard Thawne.  Speed Force's resident Rogues scholar, Lia from The Rogues Kick Ass!, provides commentary:
The first time I noticed this, I was absolutely startled.  I thought it couldn't be showing what I thought it was, and yet, it was :>  For those not sure what we're talking about, here it is.

That isn't Eobard's only nude appearance, just the one which showed the most.  He was naked a couple of times in "The Return of Barry Allen" storyline.

http://gorogues.tumblr.com/post/936161467/whoa-eobard-im-starting-to-think-you-have-a
http://gorogues.tumblr.com/post/936158336/wouldnt-you-like-to-see-professor-zoom-naked
"Play it again, Sam," references a widely-misquoted line from the film Casablanca.
PG 9:  If he had wanted to save his energy, Flash could have stopped the elephant with female elephant love-calls.

PG 11:  No one, besides Kid Flash, has spoken directly to Barry since he set out after Zoom in issue #323.
PG 12 & 13:  This scene is a major part of the historical groundwork for more recent arcs such as "Rogue War" (although it featured a different Zoom), as well as "Full Throttle" and Rogues Revenge.  The Pied Piper's plan, or at least a portion of it, comes to fruition later on in this collection.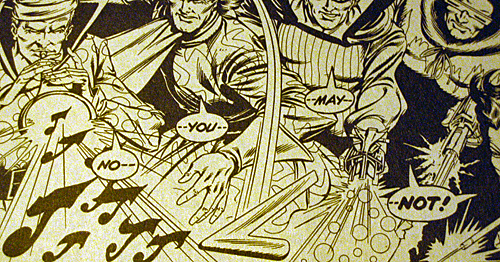 PG 14:  Zoom's remains are carried away by the wind.  Were there any corpses brought back during Blackest Night that were more destroyed than Thawne's?
PG 17:  Flash nearly incriminates himself here.  In private moments, both alone and with Zoom, Flash had clearly stated his belief that Zoom deserved to die.  Of the arrest itself, Cary Bates had this to say when we interview him back in May:
Even though he acted in self-defense in the heat of the moment, the notion of a high-profile super-hero committing manslaughter for real (let alone being charged with murder) was quite a radical departure for a mainstream DC book in that era.

See you next week!
Share