We've known since Comic-Con that the New 52 reboot would retroactively break up Barry and Iris Allen (and I had some fun with the phrasing the other day). Today, as discussed at Robot 6, DC formally announced the breakup at The Source, and revealed who Barry will be dating in at the beginning of the new series.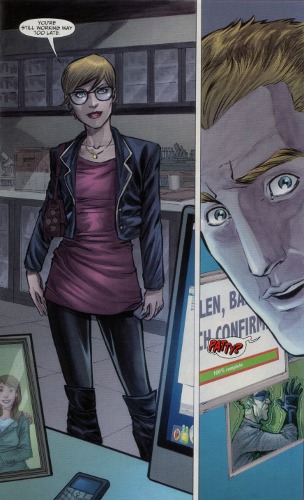 Yes, folks — in the post-FLASHPOINT world, Barry Allen has not only never dated Iris West, but he's dating someone else entirely in issue #1! And that someone is…his longtime coworker Patty Spivot!
Long-term Flash readers may remember Patty Spivot as Barry Allen's lab assistant in the late 1970s and early 1980s. More recent readers have seen that in the modern continuity, she was a full-fledged police scientist in her own right, and that she had been romantically interested in Barry Allen during their years as colleagues. In "The Road to Flashpoint," Barry gave her the "Let's be friends" speech, and in Flashpoint: Kid Flash Lost, she stole Hot Pursuit's bike and gear to take on the role of a time cop. (This being the Flashpoint universe, the new career didn't last long.)
Editor Brian Cunningham continues:
But don't fret—Iris West remains an active supporting cast member. And a wonderfully entertaining one, at that! Who else could possibly hit up Barry for anonymous crime-story tips to fill her blog on the Central City Citizen's website? No one but the go-getter Iris could consume so much caffeine and live to tell about it.

And who knows, maybe someday we'll have the opportunity to see why Barry and Iris fell in love in the first place. Or maybe not! Stay tuned — I can assure you Barry's love life will never, ever be boring!
In the original history, Barry Allen and Iris West were married in The Flash #165, way back in 1966, still in the Silver Age.
Share