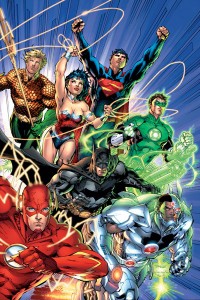 The DC reboot is here, and it's time to make some decisions:
What new series should I buy?
Should I stick with print, or go digital?
I've figured out the first question, but the second one — brought on by the fact that DC has finally started releasing digital and print comics on the same day — is a bit trickier.
I love books. Print is familiar. I don't have to worry about batteries, or restrictions on lending, or format-shifting as technology changes…
And yet…
I've got 10 long boxes sitting in my bedroom, and another dozen or so sitting in a storage unit, and I'd estimate that at least half of them are comics that I'm never actually going to read again. Even if I salvage one box worth of kid-friendly books to save for my son, that's still 9 or 10 long boxes that might as well be filled with junk…and I could really use that space. (Incidentally, I've got some trades and stuff up on eBay. Why do I mention this? Oh, no reason.)
Digital files take up a lot less space than physical comic books.
I'm not big on being shackled to the desktop for reading, but tablets have reached the point where you can comfortably read a digital comic while lying on the couch. Plus with a tablet, you can take your entire digital collection with you while traveling, or if you have to evacuate your home for an emergency. I've gotten really used to having all my music available on an iPod during car trips. On the downside, it's a lot easier for someone to steal your iPad (and your entire digital collection) than those 20 long boxes.
I've already used ComiXology to try out Justice League #1 (sorry, it didn't grab me), and I can see myself testing the waters of other books down the line. Especially if I pick up a tablet (I've been thinking about getting one for non-comics reasons), it may turn out to be the best way to pick up the occasional "hey, this might be interesting" book even as I buy other series in print. If I'm only likely to read it once or twice, long-term restrictions (both those inherent to the format like technology changes, and those imposed like DRM) cease to make much difference.
I'll probably end up going digital-to-trade with some series, reading new chapters online and buying the collections to reread later. That's how I follow Girl Genius already (though in that case the digital edition is free), so it's not a huge leap. Collected editions have some big advantages, too: they're usually a complete story, for one thing. For another, you can store them on standard bookshelves instead of in specially-designed boxes or drawers. The big risk, of course, is that they're still seen as secondary to the monthly magazines. Not every story gets collected, and if sales on the individual issues drop too low, the publisher will cancel the series before you even have the chance to buy the latest volume.
And that brings up an interesting question that I don't think I've seen discussed much: Where do digital sales fit in DC's (and other publishers') marketing analysis? What level of digital sales will be considered successful? And if a series tanks in print, but pulls solid numbers online, will they still cancel the book? Will they keep a small print run going, subsidized by the digital sales? Or will they go digital-exclusive?
It's going to be really interesting to watch how it all shakes down.
Share