Salutations Speed Readers,
Just a quick reminder for those anxiously awaiting for the last major Flash-related offering from Mattel's Justice League Unlimited line. Jay Garrick, the Golden Age Flash will be on sale tomorrow in a three pack along with Alan Scott (the Golden Age Green Lantern) and the Golden Age Hawkman: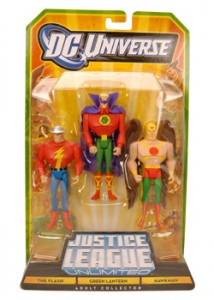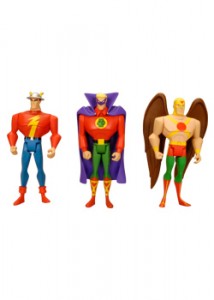 The three pack will officially go on sale at 9 a.m. Pacific (12 noon Eastern) time and will set you back around 20 dollars for all three. Not a bad deal at all, especially considering some prices for JLU at retail. Not to mention you get three all new action figures as opposed to the previous JLU three packs where we were lucky in some cases to get one (I'm looking at you Heatwave pack).
I personally had planned on getting two packs in order to support DC and the JLU line but this will probably be one of my last major Flash purchases for a while and I think I will only be getting one initially. I already purchased a prototype of the Jay Garrick Flash a few months ago and having three of the same figure would be overkill.
You can purchase the set tomorrow by following this link.
In any case happy hunting! I hope everyone gets a chance to grab one!
Thanks for reading,
Share