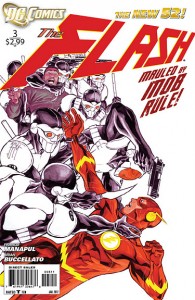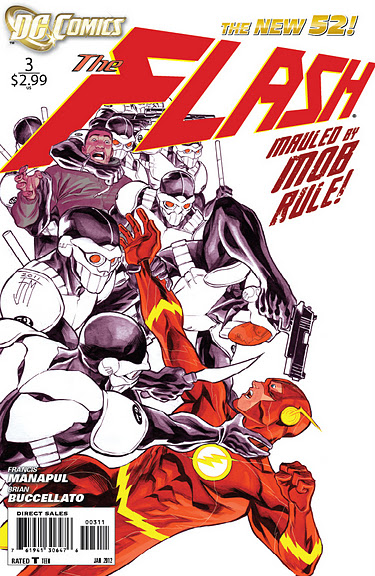 If the Fastest Man Alive is going to capture Mob Rule, he must first tap into his new amped-up super brain to save the citizens of Central City from the EMP that has blacked out the city. Witness a spectacular sequence of out-of-control cars, trains and even airplanes that must be stopped from destroying the city!
Written by FRANCIS MANAPUL and BRIAN BUCCELLATO; Art and cover by FRANCIS MANAPUL; 1:25 Variant cover by JIM LEE; 1:200 B&W Variant cover by FRANCIS MANAPUL
DC Universe 32pg. Color $2.99 US
Notes: A four-page preview is up on DC Comics' Google+ page. This is also the issue that Brian Buccellato gave me a sneak peek at when we talked at Long Beach Comic Con, and let me just say: it's awesome. You don't want to miss this one.
Update: I completely forgot to include the reprint of the Mark Waid/Brian Augustyn Life Story of the Flash in the new DC Comics Presents format.
DC Comics Presents: The Life Story of the Flash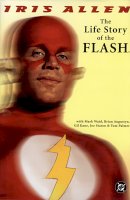 This striking tale combines comic-book illustration and prose to follow Barry Allen from his humble childhood to his noble death, detailing his transformation from police scientist to one of the DC Universe's most dynamic heroes.
Written by MARK WAID and BRIAN AUGUSTYN; Art by GIL KANE, JOE STATON and TOM PALMER; Cover by GLEN ORBIK
DC Universe 96pg. Color $7.99 US
Notes: It's nice to see this back in print, though a lot of it's been erased from history — first by Flash: Rebirth and then by Flashpoint/the New 52. The 1997 hardcover was written as Iris Allen's in-universe biography of Barry Allen after his death has made his dual identity public.
Share