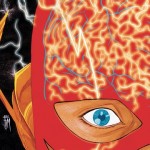 A while back I examined my comic book buying patterns by deciding which books I would buy if I could only buy three comics. It's one thing to name books you're ready to drop, or to name your favorites. Looking at it in terms of what you'd keep if that was all you could get really forces you to evaluate. It's also helpful for ranking if, after you pick your top three, you expand it to four, then five, then six, etc.
I asked the question again last year, and found that things had changed a bit (though that was partly because two of my top three comics had been canceled). With the new year, and with the first round of New 52 stories reaching their conclusions, I thought this was a good time to pick up the question again.
So if I could only buy three comics, they would be…
The Unwritten – Consistently one of my favorite titles over the last few years, and I wrote about why I like this series for the "Read This Too!" event. It's been in my top 3 every time.
The Flash – It's been a bumpy road. Last year, "The Road to Flashpoint" squandered all the enthusiasm I'd built up with "The Dastardly Death of the Rogues," and Flashpoint came close to killing what was left, but the new Francis Manapul/Brian Buccellato series feels like it's finally getting the book back on track.
Lady Mechanika – This steampunk action/adventure mystery was one of my favorites to come out of 2010.
What DC books missed the cut?
I've got a few other indies I'm reading, but since this is a DC-focused blog, I'll just run down the other DC books I'm reading right now.
Demon Knights – My favorite of the "New 52" books featuring characters that I wasn't following before Flashpoint. If Lady Mechanika had wrapped up last year, this would take its place on the list. Arguably, it can anyway, since LM comes out so rarely that it might as well not count against the three-comic limit.
The Shade – This would be the next one on my list. I was a bit uncertain after the first issue, but #2 and #3 have really pulled this to the top. Fortunately, I don't really have to limit myself to three comics, so I can keep reading this one.
Frankenstein: Agent of S.H.A.D.E. – I'm really not sure about this one. I want to like it more than I do. I should like it. It's got crazy ideas, a poetry-spouting Frankenstein Monster, a microscopic headquarters that can fly anywhere, an immortal leader who's regenerated into the form of a child, complete with a change in attitude, alternate dimensions, space travel…but I can't seem to get into it. I'll give it another issue or two, but I'm on the fence.
Justice League Dark – I liked the concept of putting all these magic-oriented heroes on a team, but the book has just been…not for me. The story hasn't been compelling, I don't like the characterization of Madame Xanadu as a junkie, and the dialogue all just feels off. I'm sticking through to the end of the first arc out of sheer stubbornness, but I was ready to drop it after #3.
Resurrection Man – The first issue told an interesting story, but the last three have basically been a giant slugfest. Even the main character's power has been little more than a MacGuffin explaining why everyone's after him. I'm willing to give it a little more time, but like Frankenstein, I'm really not sure.
I'm definitely keeping Demon Knights and The Shade for now, and I'm giving the others one more issue to change my mind. Though in the case of Justice League Dark, I don't really expect anything. I'm just determined to finish the first story.
Now it's your turn. If you could only buy three comics, which ones would you pick?
Share