Yesterday afternoon the Skelanimals Facebook page announced that they would be joining forces with DC Comics to bring us Skelanimals based on our favorite DC super heroes. Now you can have your very own Flash Skelanimal: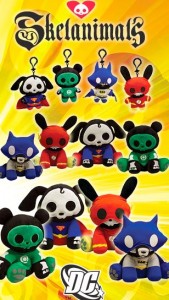 Now what are Skelanimals you ask?  Skelanimals are the latest craze created to get that ever so tricky tween market and so far has succeeded famously. The brand consists of junior, men and women apparel, pillows, sleepwear, backpacks, key chains, collectible toys and many, many more.  Advertised with the tagline  "Skelanimals: Dead Animals Need Love Too" each character has a different back story explaining how they met their unfortunate end. The one wearing the Flash costume is known as Jack the Rabbit: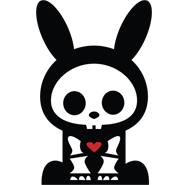 This is how Jack died:
Jack was nimble, Jack was quick.

He was so fast, it made you sick.

Showing off his speed, he challenged a turtle.

The race then started, he shot like a missile.

As he ran so far, he turned around to see

Where he left the turtle, and then hit a tree.
Shoddy rhyming aside, I can see why Jack is the perfect choice to represent The Flash. You can pick him up in Clip-On, 6 Inch or Deluxe 10 Inch versions: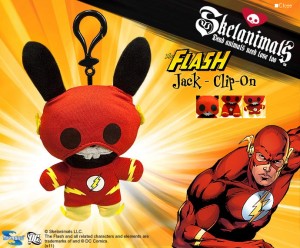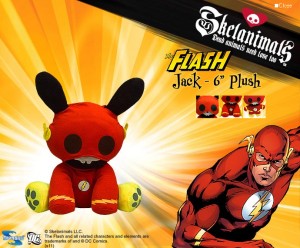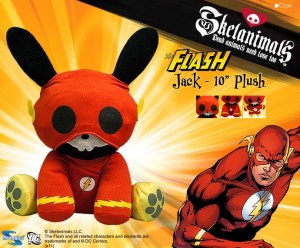 I'm not too sure about how much these will be going for at retail but BigBadToyStore has preorders with the clip-ons priced at $8.99 individually, the 6 inch mini-plush at $17.99 and the deluxe 10 inch version at 24.99. Not super cheap but still pretty affordable when compared to the similarly licensed Bathing Ape merchandise from a few years back. You can also order them in sets and save a few bucks on the overall cost. By the way I noticed that this was Wave 1 and while I will admit that we often don't see second waves of stuff like this I would be curious to see who ends up in Wave 2. Not sure how this whole skelanimal universe works but are there any possibility for villains? Maybe a Rogue or two?
So what do you all think of Skelanimals? Do you plan on picking up any of the characters in any of the sizes? Drop us a line in the comments box below.
Thanks for reading,
Share