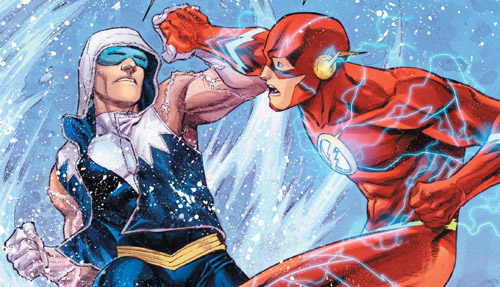 February estimates at ICv2 have The Flash #6 selling an estimated 68,061 copies, down 5% from the previous month. Given the high profile of the relaunch and the usual trend of series to shed readers over time, it's hard to say what the numbers really tell us…but the drops are shrinking, the rankings are steady at #8, and it's still ahead of the 57K sold by Flash vol.3 #6 and the 55K mark where volume 3 settled.
Numbers
Issue
Rank
Month
Units Sold
% Change
Flash vol.4
Flash v.4 #1
4
September 2011
129,260
Flash v.4 #2
5
October 2011
114,137
-11.7%
Flash v.4 #3
9
November 2011
90,417
-20.8%
Flash v.4 #4
8
December 2011
77,336
-14.5%
Flash v.4 #5
8
January 2012
71,611
-7.4%
Flash v.4 #6
8
February2012
68,061
-5.0%
It's worth noting that we've had seven issues in a row with no delays and no creative team changes.
Update: I forgot to mention that, like last month, Flash didn't appear in the digital top 10.
A few key articles covering past sales (with lots of numbers):
*What these numbers measure: US-only sales, wholesale from Diamond to comics retailers. They don't count sales through bookstores, they don't count international sales, and they don't count how many copies were actually bought and read…but they do measure the same thing every month, which means they can be used to spot trends.
Share