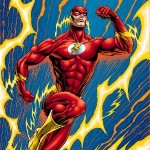 ComiXology is running a 99-cent sale on Grant Morrison comics, including the nine issues of The Flash he co-wrote with Mark Millar in the late 1990s.
I think all of these have been available for a while now (several months ago I bought Flash #134, the incredible Jay Garrick solo story, to check out the image quality at the normal $1.99 price), but if you've been waiting for a chance to read Wally West in "Emergency Stop" or "The Human Race" for cheap, now's your chance.
Note: For some reason, the issues aren't visible right now if you go to the series page. You have to go through the Grant Morrison sale.
Share