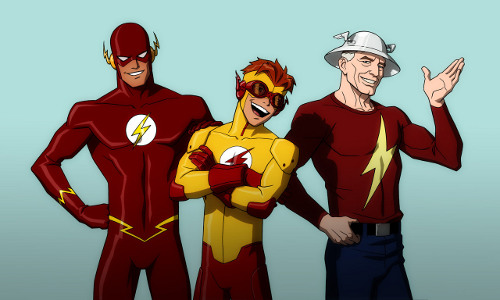 There's been a lot of speculation among Young Justice fans about the fact that Kid Flash/Wally West has been missing from the five-years-later second season, and that the Flash has barely appeared (and hasn't spoken). Did Wally West die during the gap? Did Barry Allen die, with Wally West stepping up to become the new Flash like he did in the comics?
One thing is known: An upcoming episode by Peter David will feature three Flashes: Jay Garrick, Barry Allen and Wally West. Geoff Pierson will provide the voice of Jay Garrick.
I haven't found a definitive source for the airdate, but it appears to be the June 2 episode, "Bloodlines."
Update: I meant to add this, but it seems to have gotten lost in editing. What we don't know: When the episode takes place, or whether Jay, Barry and Wally all appear together or separately (or even in different time periods).
Set your DVRs, folks. This is going to be bigger than Wally's spotlight in "Coldhearted."
Image: Character design by Jerome K. Moore.
Thanks to @CraigRMacDonald for the reminder and the link to Charles Skaggs' post which directed me to Peter David's post, and to Kyer for remarking on the "Bloodlines" title.
Share