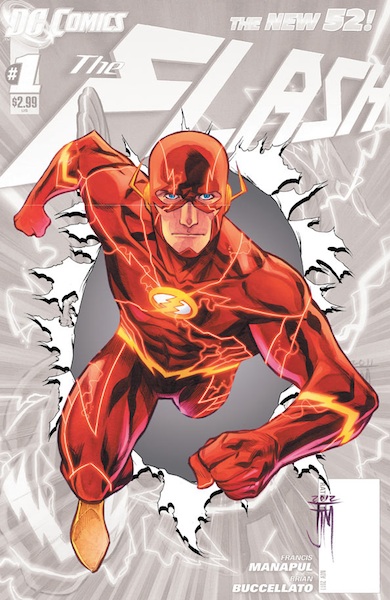 DC's Justice League Group solicitations are out for September and the Zero issues, including…
THE FLASH #0
Written by FRANCIS MANAPUL and BRIAN BUCCELLATO
Art and cover by FRANCIS MANAPUL
1:25 B&W cover by FRANCIS MANAPUL
On sale SEPTEMBER 26 • 32 pg, FC, $2.99 US • RATED T
Update: This issue will ship with two covers. The variant cover will feature the standard edition cover in a wraparound format. (from Newsarama)
At last, it's the origin of The Flash!
The loss of his mother put Barry Allen on the road to becoming a hero, but only when he gains his powers will he understand her most important lesson.
As noted last week, this is not the final cover, but a piece of promotional art.
I think I've mentioned it before, but I'm disappointed that the tragic backstory Geoff Johns grafted onto the character is still in place. I know getting rid of it would mess up the theme of Flashpoint, but if you look at the New 52 as its own entity (which is what they're doing everywhere else), it would have been the perfect time to clean up the "Can't be a real hero unless he knows tragedy" cliche.
(I've become more and more certain over time that Hunter Zolomon was thematically an author stand-in in the same way that Superboy Prime is a stand-in for fans that Geoff Johns disagrees with.)
Share