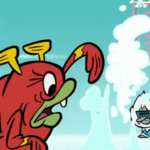 Warner Brothers showcased some new DC animation teasers at San Diego Comic-Con this weekend, and fortunately they've been put online as well.
The Young Justice: Invasion teaser features Wally and has a brief cameo of Bart (non-Americans may not be able to view this; last night I could, but now I can't).
The DC Nation trailer shows a funny-animal Flash versus Captain Cold, and possibly Tar Pit fighting Black Lightning. And notice the 'Gambi' sign behind Thunder and Lightning. Other characters shown include the Masters of Disaster and Amethyst, and an interesting new Batman piece.
All in all, something to look forward to!
Share