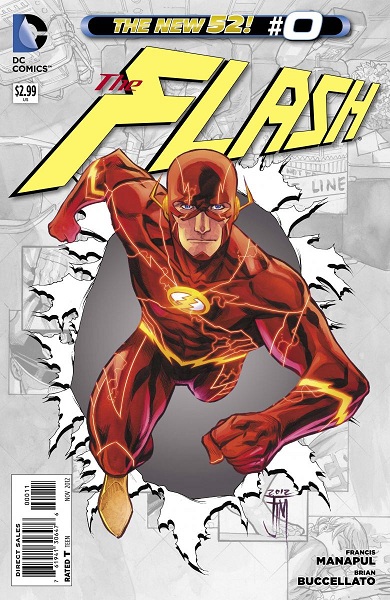 This week sees the release of Flash #0, the Zero Month issue featuring the New 52 origin of Barry Allen.
At last, it's the origin of The Flash!
The loss of his mother put Barry Allen on the road to becoming a hero, but only when he gains his powers will he understand her most important lesson.
Writing and art by Francis Manapul and Brian Buccellato.
Check out the preview on Facebook.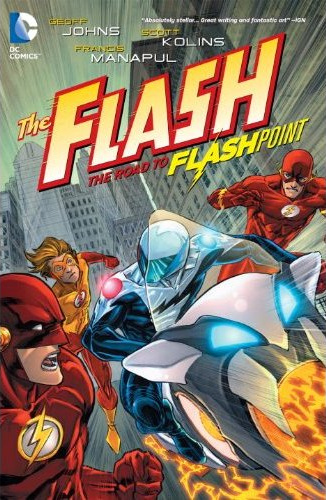 There's also the trade paperback of The Road to Flashpoint, the second half of the Geoff Johns/Francis Manapul run from 2010-2011.
Make way for Hot Pursuit – the latest speedster to come out of the Speed Force!
Collects THE FLASH #8-12!
Written by: Geoff Johns, Scott Kolins
Art by: Francis Manapul, Scott Kolins
After a few hiccups, DC's digital back-issues program seems to have shifted from three issues of Flash (1987 series) each week to two issues of Flash and two of Impulse. This week features the digital re-release of Flash #58-59 and Impulse #19-20. At this rate, the entire William Messner-Loebs/Greg LaRocque run will be available next week!
Flash #58 and Flash #59 continue the story of the Icicle's fortune, as his grandchildren take Wally West to court over the contested will. But what does Pied Piper have to say about this wealth…and the forgotten legacy of Invasion? Power Girl guest-stars as Wally and Mason Trollbridge try to uncover the secret of a rogue agent stalking another of the Makhent family.
Impulse #19: it's the speedster's nightmare! Then in Impulse #20, Bart tries to learn how to live normally by learning to play baseball. Hilarity ensues.
Flash (1987-2009) on ComiXology
Impulse on ComiXology
Share