Hey Speed Readers,
So I've been following DC Comic's latest foray into fighting games, Injustice: Gods Among Us extremely closely. Albeit flawed I enjoyed Mortal Kombat vs. DC Universe a decent amount and always hoped for a sequel (preferably without any Mortal Kombat characters). Thankfully I got both of my wishes and Netherrealm Studios (a reshuffled Midway) will be bringing this game to us in April of 2013 for the Playstation 3, Xbox 360, and the Wii U (Just in time for my birthday *wink, wink, nudge, nudge*).
Today the Injustice: Gods Among Us Facebook Page announced that a limited edition Collector's Edition of the game will also be released in April. The Collector's set will retail for $99.99 usd (as opposed to the normal $59.99) and will feature several bonuses:
Injustice: Gods Among Us Collector's Edition!

The North American package will be available beginning April 2013 in limited quantities for the Xbox 360® video game and entertainment system from Microsoft and PlayStation®3 computer entertainment, and will retail for $99.99.

The North American Injustice: Gods Among Us Collector's Edition will include:

• Exclusive 13″ DC Collectibles statue featuring iconic characters Batman and Wonder Woman, the Fortress of Solitude, and the Last Son of Krypton's escape ship

• Special Collector's Edition of a brand new DC Comics series

• Digital download of DC Universe animated film Justice League: Doom

• Three exclusive skins based on Batman, Superman and Wonder Woman from DC COMICS – THE NEW 52
Here is a picture of the statue: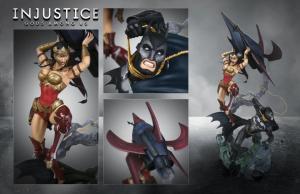 A little annoyed at the Trinity-centric bonuses, but they are the more popular characters of the DCU and are going to be the ones putting gamer's butts on couches I suppose. But still I wish they would focus on other characters. You are never going to have any new top tier characters if they aren't given that push to get there. Look at Iron Man before all the movies. Yes, I suppose he was top tier in the Marvel Universe itself as far as being a hero and a member of the Avengers but in the eyes of the general populace? B-list at best. Marvel is taking the necessary steps to build up other characters in their vast pantheon, why can't DC? Why does it take so much to get a movie off of the ground (especially when you are owned by a major film studio) but have the money and resources to toss at throwaway CW-type garbage? *Deep breath*
Moving on, I'm not that sold on the collector's edition. If there were alternate uniforms for The Flash included, maybe (although it would probably end up being that new fangled armor thing from the New 52) but as it is, there just isn't really any incentive for me to plop down 40 extra dollars. I'm probably going to see what kind of preorder bonuses we are dealing with before I even decide to purchase it brand new (not even going to go into that). The statue looks o.k. I suppose but honestly it is kind of disturbing looking at it from a certain *ahem* perspective. I already own Justice League: Doom after being suckered into buying it for the included figurine so that still isn't much for me to care about. I am curious about the two comics included but until they announce a writer and artist and well what the comic is about, meh.
I will however definitely be picking up the game in some capacity as everything else I've seen so far has been excellent. From the interactive stages and special attacks to the details in the characters moves and mannerisms this game looks like a ton of fun. I'm not the biggest fan of some of the character's designs but The Flash's is growing on me and I'm sure I won't mind the others too much while playing the game. I do hope we can count on some alternate costumes besides just the ones for Batman, Superman, and Wonder Woman included with the Collector's edition. The cast does seem a bit Bat-centric but I'm sure I'll dig playing as characters like Nightwing and Catwoman more often than not. Some newer screens from Injustice: Gods Among Us: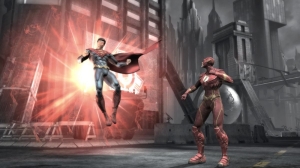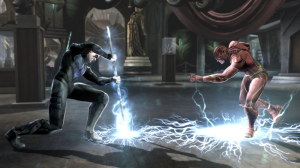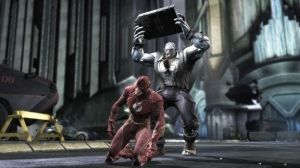 So who else is anxiously awaiting this game? Anyone going to spring for the Collector's Edition? Please let us know in the comments below.
Thanks for reading,
Share