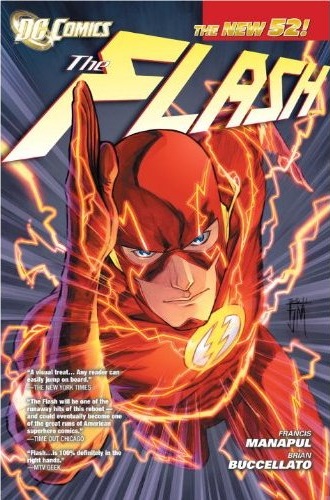 Struck by a bolt of lightning and doused in chemicals, Central City Police scientist Barry Allen was transformed into the fastest man alive. Tapping into the energy field called The Speed Force, he applies a tenacious sense of justice to protect an serve the world as The Flash!

The Fastest Man Alive returns to his own monthly series as part of the DC Comics—The New 52 event with the writer/artist team of Francis Manapul and Brian Buccellato. The Flash knows he can't be everywhere at once, but he has seemingly met his match when he faces DC Comic' hottest new Super Villain, Mob Rule, who really can be everywhere at once!

As Mob Rule wages a campaign of crime across Central City, including an electromagnetic blast that plunges the city into darkness, The Flash learns the the only way he can capture Mob Rule and save Central City is to learn how to make his brain function even faster than before—but as much as it helps him, it also comes with a steep price.

This volume collects issues 1-8 of the monthly series.
— Amazon's description of the book.
And yes, contrary to previous reports it does collect issues #1-8. I met Brian Buccellato at Long Beach Comic & Horror Con over the weekend, and he showed off a copy of the book.
Digital Backissues
ComiXology adds Flash #70-71 and Impulse #31-32. Flash #70 concludes the 4-part "Gorilla Warfare" crossover with Green Lantern #30-31, while Flash #71 is the first part of a 2-part story with an all new Dr. Alchemy. Impulse #31 has Max Mercury going up against his old nemesis Dr. Morlo, and Impulse #32 focuses on one of Bart's friends, Preston, as he deals with both being injured as a bystander in a superhero/villain fight and facing his mother's mental health problems.
Share