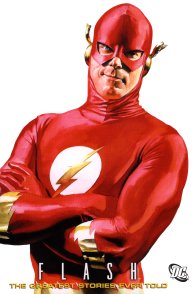 I was thinking about the Flash: The Greatest Stories Ever Told collection recently, and about how I would have swapped out a few of the stories. (In particular, there's a giant 80-page story that was decent enough, but I think that space would have been better used for more regular-length stories, like "Nobody Dies").
And then I thought about tomorrow's election in the US, and thought: let's do a survey.
Here's my question for you. Imagine that you can choose the contents of a Greatest Flash Stories Ever Told collection. You have room for 10 single-issue stories (or 20 half-length Gold/Silver Age stories, or 5 two-issue stories, etc.) from the entire history of the Flash.
What do you include?
Share