Salutations Speed Readers,
Funko has announced that they will be teaming up with DC Comics again to bring us some Vinyl Domo collectibles including two versions of The Flash.
Now for those that are unfamiliar with Domo, Domo started out as the mascot for the Japanese TV station, NHK and made his first appearances in stop-motion animated shorts. He quickly grew to worldwide fame and now you can find him in comics, games, toys and all kinds of other merchandise. You can learn more about him by visiting Domonation.com.
The first stands 3.75 inches tall and is similar to past Funko Pop Vinyl releases: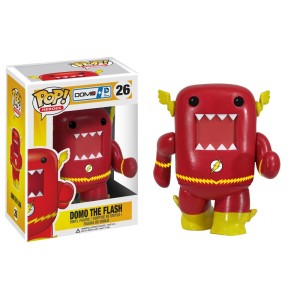 The second will be 2.5 inches tall, also made of vinyl and will be blind packed along with 13 other DC characters. Blind packing refers to the practice of packaging a product as to give no discernible evidence as to what may be in the box. The first picture of Domo x DC Blind Box Vinyl Flash is courtesy of Action Figure Insider: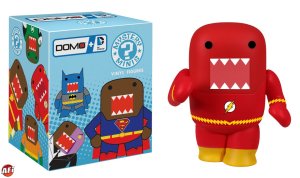 As mentioned in the AFI article some Domo figurines will be rarer than others with Flash being packed at a normal ratio of 2/24. This handy diagram provided by Funko might help explain things better: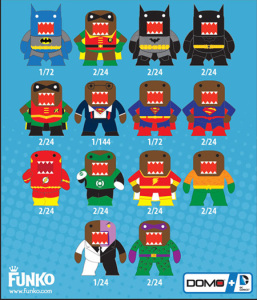 I, for one am pretty excited for these guys. I always found the Domo character to be pretty cool visually and I like the combination of DC heroes and Domo. Some look a little funky but I think the Flash Domos came out looking great, especially the 3.75 inch one. I'm hoping these guys will be easy enough to track down online.
Domo x DC Comics 3.75 inch Vinyl collection will go on sale February 14th, 2013 while the Domo x DC Blind Box set goes on sale February 28th, 2013.
Who else is a fan of Domo? Who just plans on picking them up for the DC Comics connection? Let us know in the comments below.
Thanks for reading,
Share