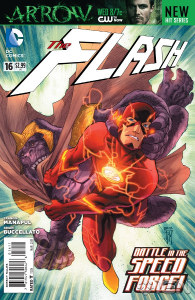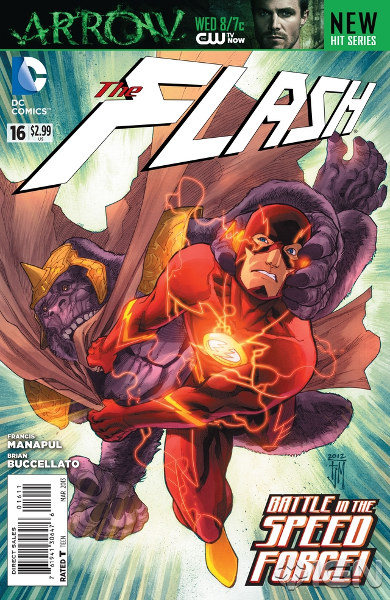 This week sees the release of Flash #16 by Francis Manapul and Brian Buccellato, part 4 of "Gorilla Warfare." IGN has a preview. Meanwhile, we get two digital backissues each of Flash and Impulse from the 1990s.
The Flash takes Grodd into the Speed Force in a last-ditch effort to defeat the mad gorilla! And…he loses?! Plus: The Rogues, the introduction of a major villain and a look at the one and only date between Barry Allen and Iris West in The New 52!
Digital Flashbacks: ComiXology is adding Flash #102-103 (Wally West) and Impulse #49-50 to the digital back catalog.
Flash #102: Wally West vs. Mongul, the alien warlord who destroyed Coast City. Update: Check out Devin's action figure recreation of the cover at The Fastest Fan Alive.
Flash #103: Linda has run off, the only clue being a photo of her with her ex– an ex whom Wally didn't know about! But relationship troubles are the least of their problems, as the couple have to work together to stop a cult from raising a demon.
Impulse #49: Evil Eye is sent to a behavior modification camp run by Wally's ne'r-do-well father, but Bart suspects the camp is going too far. It's up to Impulse to find out what's going on, and shut it down if he has to. This is the last issue of William Messner-Loebs' run on the series.
Impulse #50: Todd Dezago takes over as writer. Impulse teams up with Batman, and we get our first hints of Bart's "dark twin," Inertia.
Share