The Flash creative team of Francis Manapul and Brian Buccellato were featured in an interview posted yesterday at Comic Vine.  Within, the two talk about their plans for the title in 2013, including the fates of Iris West and her family, the introduction and genesis of the new Reverse-Flash and more!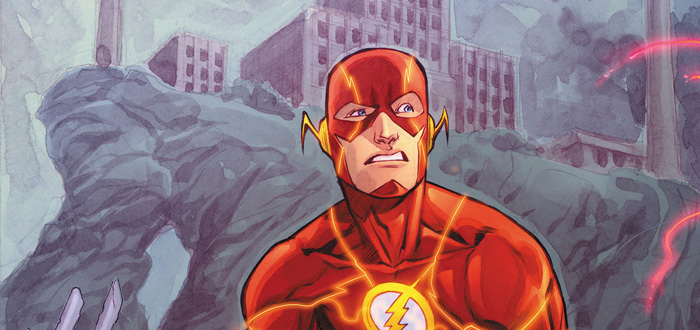 Media Blitz! features highlights from recent Flash news items.  Follow the jump for the latest!  There are some interesting threads in the writers' responses…
On Barry's not searching for Iris after she was lost in the Speed Force:
Francis Manapul: Barry was told by Turbine that Iris was lost in time. His hesitance to go back to the past and potentially alter anything has prevented him from this search. That and barrel full of apes has kept him quite busy. However we will see a resolution to this by the end of Gorilla War.
On [the green-eyed] Daniel West and his role in the title's new year:
FM: This new year will bring on a lot of new information about the West family. Daniel and Iris has had a falling out in the past, and we'll be exploring what cut the familial ties.

Brian Buccellato: …He is a part of the New 52 Flash universe and we look forward to exploring his experiences and how he relates to the others in book — especially his big sister and any other friends and/or family members that cross his path.
On updating the Reverse-Flash for The New 52, including his look and existing backstory:
BB:I will say that Francis and I never really considered using the pre-52 version of Reverse Flash. That ground is well worn and so we prefer to just keep "moving forward".

FM: After our discussion with the gang, the introduction of Reverse Flash into the New 52 actually flowed seamlessly with the story we were telling. We're excited to introduce this "new" threat to Barry and his supporting cast.

BB: He has no recollection of pre 52 events and so this will be his FIRST dealing with Reverse Flash…Honestly, the way we are approaching the character and his/her motivations requires an entirely different look and feel. This may be a bit of a knock against the classic versions, but MAAAAAN his costume was YELLOW. I'm sure some might hammer me for not liking the old costume, but I think our version looks WAY MORE badass and, dare I say, SCARY.
It's a small detail, but the "his/her" distinction in the last response stood out to me.  Also, when asked about future stories, Manapul responded,"'Just when I thought I was out… they pull me back in'."  Comic Vine has that in quotes-within-the-quote.  Previously, Manapul had implied that his run might end this year.  There have also been rumors that Flash was one of the books in line for creative changes in 2013.
For more, including plans beyond the Reverse-Flash arc and comments on Dr.'s Elias and Guerrero, go to Comic Vine!
Share