Hey Speed Readers,
Toy Fair, the biggest toy convention of the year, wrapped up it's first day yesterday and already we've got some awesome Flash reveals!
DC Collectibles will be releasing even more Flash-related collectibles this year with a New 52 version of Captain Cold coming in September and The Flash from the video game, Injustice: Gods Among Us coming to us sometime in the summer.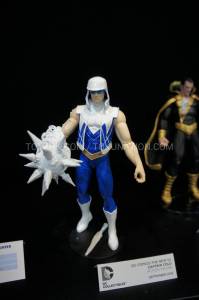 Image courtesy of Toyark.com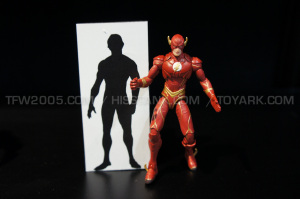 Image courtesy of Toyark.com
Captain Cold will retail for $24.95 usd (although I'm hoping to find a good pre-order deal on him) and Injustice Flash will be included in a two-pack with another character that has yet to be revealed. That set will retail for $29.95 usd.
They will also be re-releasing the DC Collectibles' New 52 Flash at least two more times so you can build up your army of Flash after-images. One will be included with Geoff Johns' latest "challenge", Vibe (which almost guarantees that this set will be sitting on comic shop pegs and in online stores for an eternity) for $39.95 and in a $99.95 seven pack (I love these things) with the New 52 versions of Captain Cold, Black Manta, The Joker, Catwoman, Aquaman and Batman slated for release Winter 2013.
Personally, I'm pretty hyped for the New 52 Captain Cold (desperately needed some new/redesigned Flash villains in my collection) and the Injustice Flash (just to have another version of Flash, plus I kind of dig the suit).
I've recently decided that I'm going to start collecting the DC Collectibles version of the New 52 figures and the Justice League but I'm going to have to go about this in a smart way in order to avoid spending tons of money and ending up with a million doubles.  If I purchased everything coming up in addition to everything I have already I would come out with : 4 of The Flash, 3 of Wonder Woman, 2 of Superman, 2 of Batman, 2 of Aquaman and 2 of Captain Cold (the six pack release likely won't include any of the ice accessories).  Anyone who collected the Justice League Unlimited toyline knows just how annoying it is to end up with a bunch of duplicate figures. Especially ones that you can't resell because the market is flooded.
So who else is excited to see some more Flash stuff heading our way? How do you think they did with translating the New 52 Captain Cold and Injustice Flash designs to action figures? Anything you are hoping to see in the next three days? Let us know in the comments below.
Thanks for reading,
Share