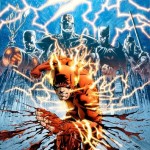 Spinoff Online reports that among the special features included in the upcoming Superman Unbound animated feature is a preview of the next film in the series, Justice League: The Flashpoint Paradox.
I'm still of mixed feelings on this. On one hand, we finally get a Flash-centric animated feature. On the other hand, it's basically a Flash/Batman story (and personally I didn't like Flashpoint itself much), and now the Flash has even been demoted from the title.
As far as adapting a reboot? Most of the story isn't about rebooting, and I still think that the conversion to the New 52 was tacked on at the end. Back when this was first hinted at last April, I noted that if you take out that double-page spread with Pandora and change the costumes in the epilogue, Flashpoint is back to being a standalone story.
Share