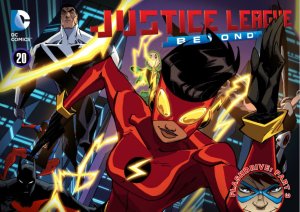 The latest digital-first chapter of Justice League Beyond continues the introduction of Danica, the new Flash of the Beyond-verse.  She finally fights alongside the Justice League…but can she succeed where the rest of the League has failed?  And, where does Wally West fit into this?
MINOR SPOILERS AHEAD – PLEASE READ THE ISSUE BEFORE CONTINUING!
This chapter picks up with the Justice League facing off against Ronald Tagg, the new villain who has somehow gained the ability to absorb the talents and abilities of heroes and villains alike (think Amazo for the Beyond-verse).Calling himself Mindslide, he easily has the power to defeat the Justice League…and even sets them to battle with each other!
Cue Danica, our new Flash, watching from the sidelines.  She is listening to voices…but not just any voices.  She is able to communicate with all past Flashes, and right now is planning what to do with Jay, Bart, and Wally!  Eventually, she comes up with her own plan…which puts the past Flashes into the action (if only for one panel).
Afterward, Danica meets Superman and explains her ability to communicate with past Flashes.  Superman is visibly moved at the idea that she can speak with Wally, and I loved his reaction in this scene.  When Supes offers League membership to Danica, she listens one more time to Wally and agrees to join on one condition – a race with Superman!  As they head off to parts unknown, Superman's reaction says it best…"Oh yeah…definitely a Flash. She'll fit right in."
This chapter ends back at Bruce Wayne's "Vault" (the secret storage place for the bodies of past super-villains) where Terry and Bruce realize that there may be more trouble ahead from an organization called the "Brain Trust" – this leads us into another story arc next chapter, and the continuation of the Justice League Beyond recruitment drive.
Derek Fridolfs wrote this chapter and provided the inks, with pencils by Jorge Corona and color by Nick Filardi. The weekly nature of this comic means both brief chapters and a more stylized artwork – given that, it truly works here, and it effectively captures the essence of the TV version of the Beyond-verse.  The twist they introduce here, that the old Flashes can communicate directly with the new Flash, is a fun angle that I hope will be explored a lot in future issues.  As for Wally…I realize that this isn't New52 continuity, but the idea that we can see Wally West in a new DC Comic in 2013 is most welcome!
SUMMARY: The Beyond-verse is proving to be a most interesting place to visit, and if you aren't checking out Justice League Beyond through your favorite comics app you are definitely missing out!
Share