TV Guide has announced the casting of the Flash and some other prominent characters of the upcoming animated film Justice League: The Flashpoint Paradox. Justin Chambers will voice Barry Allen and Kevin McKidd will play Thomas Wayne. Interestingly, both actors are stars of Grey's Anatomy.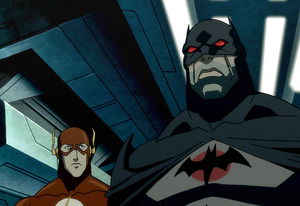 TV Guide goes on to list some of the other actors signed on for the film:
The all-star cast also includes Michael B. Jordan — star of this year's Sundance darling Fruitvale — as Cyborg, the half-man, half-robot government agent/hero; Southland's C. Thomas Howell as Professor Zoom, aka the Reverse Flash, the villain at the center of the turmoil; Cary Elwes as Aquaman, Vanessa Marshall as Wonder Woman; Sam Daly as Superman; Ron Perlman as Slade; and Danny Huston as General Lane. Warner Bros. Animation vets Kevin Conroy, Dana Delany and Nathan Fillion reprise their roles as Batman, Lois Lane and Green Lantern, respectively.
As previously announced, the Flashpoint film will be released July 30th on Blu-ray, DVD, On Demand and digital download formats from Warner Brothers Animation and DC Entertainment.
Are you looking forward to the film? What do you think about the actors who have been announced so far?
Share