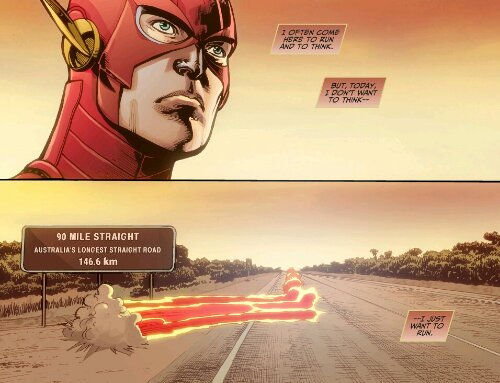 This week's chapter of the Injustice: Gods Among Us digital comic focuses on the Flash as he struggles with the consequences of Superman and Wonder Woman's campaign and his role in it.
Some disclosure: I haven't been reading this series, so I came into this issue relatively fresh. All I really know is it's supposed to set up the world of the video game, and early issues feature some really unpleasant stuff with Lois Lane and Superman.
What appears to be happening is this: Superman and Wonder Woman have taken an Anakin/Darth Vader turn, and are using their powers not to help people, but to enforce order with an iron fist across a growing portion of the globe. Some, but not all of the Justice League have followed along, Batman being a notable exception. Flash has joined them, but in this issue sees first hand what happens when people reject Superman's "protection."
It's an intriguing character study. The Flash tries to clear his head with a long-distance desert run, but fails, dwelling on the events of the day and what he learned afterward. The most poignant moment occurs when he finds the remains of a kangaroo hit by a truck. The driver, he muses, didn't have time to react and had no hope of stopping it. The Fastest Man Alive, however? He watched the incident in all its sickening detail, fully aware of what was happening and fully able to stop it. Only he didn't.
The comic does a good job establishing what's going on and who's involved, as well as showing Barry's realization that he's signed on for something horrible. What's not clear is why he sided with them in the first place, given the way he's portrayed in this issue. Is it that he trusts Clark and Diana? That he believed in their cause, but didn't understand what they were doing? Did it start out benign and escalate? To be fair, the target reader has probably been reading since the beginning and doesn't need to be reminded in such a short chapter.
It does feel a bit familiar: Superman and Wonder Woman taking over and Batman trying to stop them reminds me a lot of Kingdom Come or the Squadron Supreme Utopia Project. That said, it's been more than 15 years since Kingdom Come and almost 30 since the Squadron Supreme story, so it's hard to begrudge a newer take on the same thematic elements.
I continue to be impressed with how much story DC's digital first comics fit into essentially a third of a standard comic, and even though the overall story doesn't grip me from this one installment, the Flash's story does.
Share