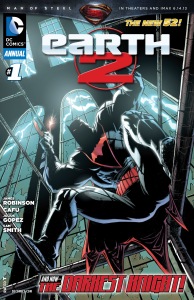 The heroes of Earth 2 are growing in number, with appearances by Captain Steel, Mister Miracle and Barda…and a mysterious new Batman!  This Annual does a great job of setting the table for stories to come…if only we could get a little more from James Robinson on this excellent title.
Okay, let's get this out of the way first…here is the transcript of everything Jay Garrick did in this issue.
…
…
…
…
…
Don't worry, he wasn't the only person who didn't show up in the Annual, as Doctor Fate was nowhere to be seen and Hawkgirl appeared only briefly.  Even so, this was an excellent issue and presents events that will soon affect the life of our favorite Earth 2 speedster, so let's move forward with the review.
SOME SPOILERS AHEAD!
This issue mainly concerns the origin story for Al Pratt and the introduction of the new Batman.  Both storylines are handled extremely well.  Al certainly has some serious baggage to deal with – understandable as he was the only survivor of a nuclear attack.  How he survived is still a mystery, but it does appear to explain to some extent the source of his amazing powers.  As he takes down an arms dealer, he gets some assistance from the new Batman.  We also find out Al's next mission…to go after Steppenwolf!  Batman is on his own trail, one that will lead him to track down one of our other heroes for help very soon.  Near the end of the story, we catch up with Scott Free and Barda…but we aren't the only ones who catch up to them as this leads to the cliffhanger ending for the issue.
James Robinson is still (for now) providing the script for what has become one of my favorite series in the New 52.  Cafu, Julius Gopez and Cam Smith provide the pencils and inks, and Pete Pantanzis handles the colors.  I especially loved the design of this new Batman – there is a bit of the Thomas Wayne Flashpoint Batman in the look, with a flair that is just perfect for the Earth 2 designs we've seen so far.  This issue is a definite keeper – get your James Robinson Earth 2 while you still can!
Share