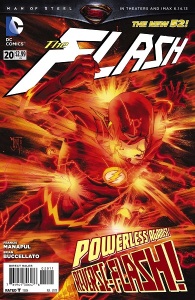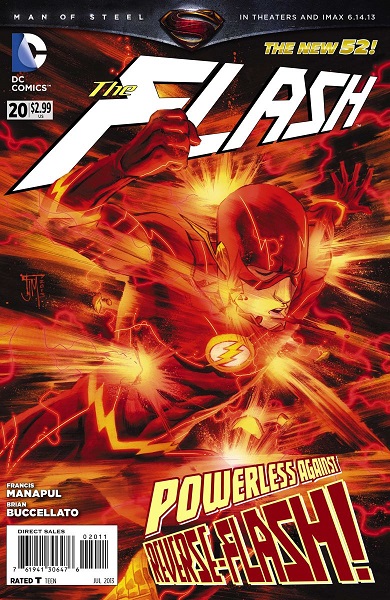 Lots of Flash comics are out this week!
Flash #20: "Reverse" Part 1 of 6. An all-new Flash epic begins here, and the stakes have never been higher as Barry races toward a confrontation with the Reverse Flash! Preview at Kotaku.
Justice League #20: The PROLOGUE TO TRINITY WAR continues as a revelation about Batman could destroy Wonder Woman and Superman's relationship! Plus, in the backup story, the penultimate chapter of the tale of Shazam finds Billy Batson learning the shocking secret of Black Adam! Preview at CBR.
Justice League Dark #20: The Flash and Swamp Thing guest-star as the team struggles to recover the stolen House of Mystery from Dr. Destiny! Preview at CBR
Teen Titans #20: "Light and Dark" continues as the fallout of last issue's attack threatens to drag the team into darkness! Preview at CBR
And in digital back issues at ComiXology…
Flash #147: While traveling the time stream to prevent two future Flashes and Barry Allen from falling prey to Cobalt Blue's magical gem, Wally West runs into the Reverse Flash. "Chain Lightning" part 3. Preview/buy.
Impulse #71: Lucius Keller–one of Max Mercury's oldest foes–has returned. Meanwhile, Impulse and Carol discover some strong feelings for each other, but this revelation comes far too late. Preview/buy
Share