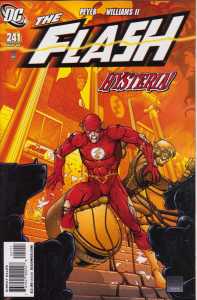 As part of our SpeedForce.org celebration, we're taking a look back to the issue of The Flash that came out the same month that this site started. Back in 2008, we were right in the middle of the "Fast Money" story arc. Wally West has seen the people of Keystone City turn against him, pushed by the villain Spin, who has brought Grodd in to help him in the battle. As for the kids…Iris and Jai have been taken captive by people working for "Boss Dark Side". That brings us to issue #241 of The Flash, with an August cover date but released June 18th, 2008. (NOTE: Thanks to John at Capitol Comics in Raleigh NC for helping me find a spare copy of this issue for the review when I could not find my own copy in my back issues).
FULL SPOILERS AHEAD!
As we begin this issue, Grodd has immobilized Wally and Jay…and Spin! Grodd answers to no one, and Spin has made a serious tactical error bringing Grodd into this fight. Grodd mentally orders Wally to find and bring back Nzame, the sacred Ape Child. He then tells Jay that there will be some future task that Jay will hate…but will be still forced to accomplish. Finally, Grodd orders Spin to tell him how he brought him here…and what he has done to the city.
Meanwhile, the kids are escaping, but as they do we find that Iris is aging again and is now an adolescent! Jai has not aged similarly, but he confesses to Iris what he has known for some time…that their parents have reason to fear they may suddenly become very old and die far too soon. Iris has already surmised this…which makes sense since their actual age at this point in the series is only three months!
We flip back to Spin telling his origin story – to find that the kids are now on the scene, taking the fight to Grodd and giving enough distraction for Wally to free himself and end this fight quickly. After the battle we find out that Spin is actually the head of KN News, and that he has been using his powers to build his own media empire and to commit crimes while turning the people against the Flash!
We have a very touching scene between Wally and his daughter, with Wally trying not to show the fear any father would have when faced with the potential mortality of his children. But, this scene is cut short by the need to get to the Flash Museum, where an out of control crowd is ready to burn the place to the ground. Wally wants to save one particular exhibit…Intertia!
This story takes place after Inertia has caused the death of Bart Allen. Wally has taken away Inertia's speed and left him so immobile as to resemble a statue, permanently on display at the museum while facing Bart's image. We see the internal conflict Wally feels about saving the person responsible for Bart's death, but in the end we know Wally's true character will win out, and he does pull Inertia out of the burning building….to find that Iris has aged yet again to adulthood!
That's where this issue ends, and the "Fast Money" story arc continues from there. It's also where this site begins…five years ago! As for the story – this issue shows some of the best qualities of Wally West as the Flash. He still has internal doubts and fears and doesn't always make the best choices (hence this story arc that begins with Wally's conflict over whether to cash in on his powers and fame to provide for his family). But, he is still at his core a really good guy and a great father. He is, in short, a very compelling character – a very human Wally dealing with the joys and burdens of immense power. This story line was the starting place for Tom Peyer as writer on this series, taking over for Mark Waid just in time to start the "Fast Money" arc. Freddie E. Williams II provided the art, with Tanya and Richard Horie on colors. This was an excellent story to me, and it's fun to bring this back to you now.
I can't end this review without a personal note here. I have been a fan of Flash: Those Who Ride the Lightning and Speedforce.org for more years than I care to admit. Thanks to Kelson for making all this possible, and for allowing me to become a part of this amazing site. Thanks to Greg, Devin and Lia for being so welcoming and for their excellent posts here that I enjoyed reading long before joining the team. Finally, a special thanks to everyone who follows this site! Thanks so much for following us here!
Share