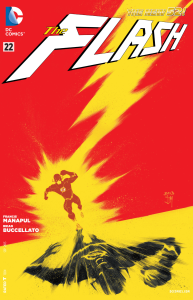 The Reverse Flash story arc is heating up in a big way.  The Speed Force Killer has taken just about everyone touched by the Speed Force…so how to protect Iris West?  And, does even Barry have enough to stand against the power of this very dangerous New 52 Reverse Flash?  This issue of The Flash has a whole lot for just about everyone in this issue – action, intrigue, and some very interesting relationship angles fill The Flash #22!
SOME SPOILERS AHEAD
One of the best qualities of this volume of The Flash has been the ability of Manapul and Buccellato to weave multiple story threads into a cohesive and compelling plot.  This issue is a great example of just that, beginning quickly with three separate scenes that are brought together through the course of the story.  We see Barry trying to investigate the scene of the latest Speed Force Killer attack, Dr. Elias waking up in his lab with the certainty that only he knows how best to use the almost limitless energy of the Speed Force, and The Flash bringing that protective suit we've seen in the previews to Iris.  The interaction between The Flash, Iris and Patty is a must read – it is just the right amount of awkward without going overboard to catty, and it certainly drives that part of the storyline forward effectively.
As to whether that preview page we've seen lately reveals the identity of the Reverse Flash?  You'll have to pick up the issue for that…Let's leave it with the knowledge that The Flash will indeed come face to face with the Reverse Flash…and that the battle leads up to the cliffhanger for issue #22!
I'm running out of superlatives to describe the creative team for this series.  Manapul and Buccellato have more than proven their chops as writers, and this issue is a great example of their ability to develop characters and to weave  multiple story threads into an effective whole.  Their artwork continues to set the standard for bringing exceptional artwork into the storytelling process.  The new design for the Reverse Flash has proven to be excellent both from an art design perspective and from a storytelling point of view.  This is another excellent issue in the series – don't miss it!
Share