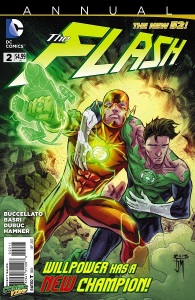 Flash Annual #2 arrives in stores today. Main story by Brian Buccellato and Sami Basri, backup by Nicole Dubuc and Cully Hamner, cover by Francis Manapul. Preview at Comic Vine.
Find out how The Flash and Green Lantern first met when a case they teamed up together to solve years ago rears its head again in the present! It involves a foe neither of them can defeat on their own, and they might not have much luck together either! The outcome of this will affect The Flash for years to come… Plus, a backup story by Nicole Dubuc (the Young Justice cartoon)!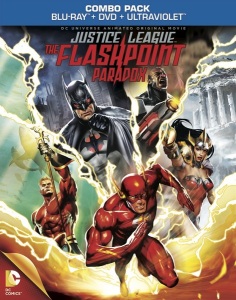 Justice League: The Flashpoint Paradox hit stores yesterday. The animated film is based on the 2011 miniseries Flashpoint by Geoff Johns and Andy Kubert, and tells the story of what happens after the Flash wakes up, powerless, in a nightmarish alternate reality. The Justice League is gone, and the world sits on the brink of destruction as the Amazons and Atlantis prepare for war.
Flash #151 joins ComiXology's digital back-issues: "A flashback tale from the early days of Wally West's career when he and a pal from his neighborhood head off an attempted Gorilla City invasion of America. Guest-starring Robin and Aqualad!"
Speaking of Comixology and Flashpoint, the digital storefront is holding a Flashpoint sale this week, with all issues of the 2011 event (including tie-in miniseries, Booster Gold and the four "Road to Flashpoint" issues of Flash) available for 99 cents each.
Share