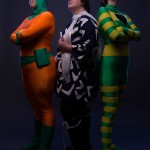 Fan Expo was held on August 22-25 in Toronto, and at over 100,000 visitors was the con's biggest show to date. But things were a bit unusual this year, as DC and Marvel did not have booths, and as far as I know Dan DiDio didn't attend (he's been to all the shows for quite a few years in a row). In their place were some rather odd sponsors/guests, such as car companies, sports celebrities, and even the Canadian intelligence agency. However I cosplayed as the Top again, met up with some other Rogues cosplayers and made some new friends, and had a great time.
The con was held in both the North and South buildings of the Metro Toronto Convention Centre for the first time this year, which was problematic if there were things you wanted to see in both locations. The main con floor was in the South building, as were the smaller panels, but the non-comics autograph area and the larger panels were in the North. This meant going up and down multiple escalators in both directions and traveling between buildings, and was usually slow going through such large crowds. Many people complained about this, and it was probably my pet peeve as well. Another problem was security cracking down on people taking photos of guests; sometimes the organizers were clearly keeping the crowds moving and it was understandable, but other times they simply seemed peevish about photos.
The show continues to grow. Originally it was just comics and sci-fi, but it's since expanded to include anime, gaming, horror, and sports. This ensures that there's pretty much something for everyone, although there have been fears that comics are being overshadowed by the other events. I don't really find that to be the case, though it's definitely true that the other genres are advertised more aggressively (probably to draw in new people). I did notice, however, that some local comics creators who always attend the show weren't there this year or were only there briefly, and as noted, DC and Marvel did not have booths this time.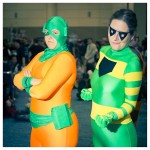 Fan Expo's major cosplay day is Saturday. I met up with my friend Kat, who dressed as Mirror Master, and met Rosie (dressed as Captain Boomerang and in a Boomerang-themed Steampunk outfit) for the first time. There seems to have been an unofficial DC photoshoot and we missed it, but we did lots of other things and still posed for a bunch of photos. Mirror Master was apparently the most recognizable of us, and three people unexpectedly asked if I was supposed to be Kick-Ass. Unfortunately the only Flash we saw that day was a shy small child so we couldn't really get many pictures with him, but we did encounter a Kid Flash and took a few photos.
We decided to goof off with a friend of Kat's (the friend was dressed as Effie Trinket from The Hunger Games) by going to the Just Dance booth and dancing in costume to "I Will Survive". Very silly, but a convention is the best time to be goofy! Mirror Master and I also played with tops at a booth, and all of us Rogues posed in front of a green screen for photos, which of course caused the green parts of our Top and Mirror Master costumes to seem invisible and spurred a lot of laughter. In short, we did ridiculous things and had fun.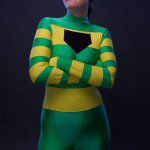 After the show was over for the day we were still feeling a bit silly, and decided to go to Dundas Square to take some photos (yes, this meant walking uptown/riding the subway in costume, which was definitely an experience). But the square was packed, so we went to a nearby location to take the pictures and had a lot of fun. Afterwards we separated to go for dinner, and as I walked down Dundas Street in my Top costume, I ran into Toronto mayor Rob Ford. He looked at me a bit oddly, then gave the thumbs up and said "cool", which was officially one of the weirdest and most hilarious experiences I've had all year. (Ford was actually at Fan Expo a day earlier, where he arm-wrestled Hulk Hogan. I am not making this up.)
It seems the convention organizers paid attention to previous complaints about crowding and lack of space in Artist Alley, because it certainly felt like the area was larger this year. There were a ton of professional and amateur artists at the show, which meant there was a lot of original art to see and buy. I got quite a few sketches for my Rogues art collection, and Kat and Rosie got a few as well. Getting con sketches is an addictive hobby — and since I'm not buying many comics or action figures these days, that's where most of my money was spent.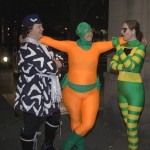 I also had a chance to check out the Scribblenauts Unmasked game at the show, and am pleased to report that it has pretty much all the Rogues available to use (and even characters such as Cobalt Blue and Chillblaine). Of course the Flashes are all there as well, but we'd already seen them in a screenshot when the game was first announced.
After the con was over and we were saying our goodbyes, Rosie and I ran into George Takei in the lobby of the Royal York hotel, which was pretty cool. So all in all, I had a very fun and exciting weekend. I do recommend attending the show (at least if you can handle the crowds), and suggest that people try cosplay too. It's a great way to connect with people and share your love of a character, and sometimes you even make new friends.
If you're interested, you can see my convention photos here, and my husband's are here. Enjoy!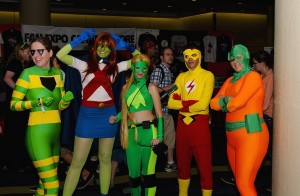 Photo credits: the Young Justice photo was taken by Chris Cheung, and you can see his Fan Expo set here. The Top and Mirror Master photo was taken by Justin Eastman, and the professional shots were taken by Convoke Photography (which we then paid for). The pic of the Rogues being chummy was taken by my husband.

Share