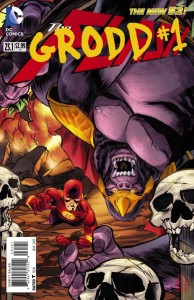 As Villains Month begins, we see a newly returned Gorilla Grodd…and he is not only out of the Speed Force, but he's learned a thing or two during his stay.  Grodd is more dangerous than ever – and with no Flash to stop him what is he capable of doing?  Central City is about to find out in The Flash #23.1 (aka Grodd #1).
LIGHT SPOILERS AHEAD
The apes of Gorilla City are making nice with their human counterparts in Central City, and things seem to be going well…until the return of Grodd!  He's back…and seems supercharged with Speed Force energy.  Can anyone stop him?  We do see some one-time foes of the Flash try, including some characters who are new to the New 52 but who will be VERY familiar to long time Flash fans.  What happens next….is something you'll have to grab this issue of The Flash to find out.
Brian Buccellato goes solo on writing duties for this issue – and he has done a stellar job with Grodd.  Kudos as well for bringing back some characters we haven't seen in a long time, including one that is apparently re-imagined for the New 52.  The art maintains the standards we've come to expect from a Flash-related title, with Chris Batista on pencils, Tom Nguyen on inks and Wes Dzioba on colors.
This is just the start of a focus on the foes of the Flash as part of Villains Month – and as a fan of all the various incarnations of the Flash it's high time we gave these wonderful characters their due.  This is a great start to Villains Month – don't miss it!
Share