Hey Speed Readers,
So in an sneak preview DC Collectibles announced not one but two new Flash figures coming soon to a comic shop and online retailer near you. The first figure will be a part of the Justice League: War line of figures based on the upcoming animated movie. You can definitely see the animated influence on this guy:
Not only that but check out the articulation…or lack thereof. No more t-crotch is definitely a step in the right direction but dang not much else to write home about. I thought that DC Collectibles were stepping up their game when it came to articulation but I guess those Forever Evil and Greg Capullo-inspired New 52 Batman figures were an anomaly. While I do dig what DC Collectibles has released so far as far as sculpts go more articulation would definitely go a long way towards making the $24.99 price point a little harder to swallow.
I'm not a big fan of the animated style either. I don't hate it but I definitely don't like it. They just look off if you ask me.
The next figure is from the best-selling comic series, Earth 2. Earth 2 was DC's way of reintroducing the Justice Society of America to the New 52 and a new generation of fans. However, this ain't yer Grandpa's JSA (ugh) and just about every character has had their look fairly radically redesigned. Jay's was one of my least favorites at first but now the suit has definitely grown on me. Not only that but Earth 2 has been consistently entertaining and is one of the few comics I am still reading from DC. Anyway on to the figure: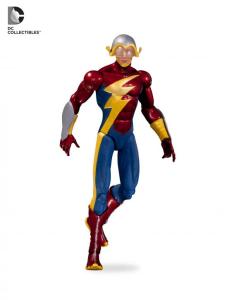 As far as likeness goes I believe the figure is nigh-perfect. The rest I guess is going to depend on whether you like the costume design itself or not. Frankly I dig it a lot and this figure is definitely a must buy for me. There are a couple new bits of articulation (ankle and lack of t-crotch) but they definitely don't match up with the newest DCC releases. They do however fit in with the many New 52 figures already released by DCC so maybe it is a good thing that they didn't go nuts with the articulation.
So what do you all think of the two newest Flash releases coming up from DC Collectibles?
Stay tuned for more Flash news coming out of NYCC.
Thanks for reading.
Share