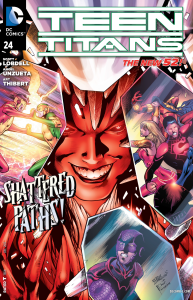 This is a really interesting issue for a lot of reasons.  For Bart fans…there is a revelation that will have us talking for a long time.  For fans of the Titans in general, we see events that will have ramifications for many issues to come.  Add to that a most amazing look at the nature of the time stream and you have a great issue of Teen Titans.
LIGHT SPOILERS ONLY
The Titans are lost in the time stream, thanks to Johnny Quick of the Crime Syndicate.  They are being bounced back and forth through a number of wheres and whens, staying for only a short time before being bounced back into the time stream.  Through these snippets of action, we learn something about Bart's past that is a true shocker!  Meanwhile, Tim Drake is looking for a way to pull the team back together before they are literally torn apart by the time stream.  What can he do about their situation, and what price must the team pay to get out of this fix?  For that, you'll have to grab the issue.
Scott Lobdell has set up a great script for this issue.  It would have been far too easy to let these different times and places cause the story to be fractured…not so here with the use of Red Robin's character to pull these storylines together.  The art teamof Angel Unzueta on pencils, Art Thibert on inks and Pete Pantazis on colors handled the various times and scenes well throughout the issue.   This issue sets up some major plot lines, especially for Bart – I'm looking forward to whatever comes next!
Share